Gothamist's Best Maps of 2013… brought to you by Open Data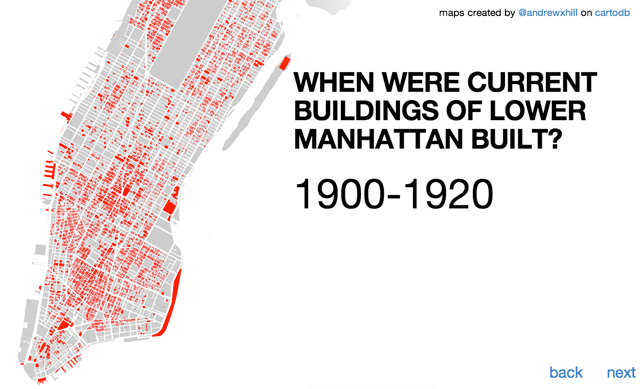 (image from Andrew Hill's outstanding and Open Data-driven PLUTO tour, included in Gothamist's top maps of 2013)
Gothamist recently published a recap of the 31 best interactive NYC Maps of 2013.  I immediately noticed the trend, and decided to look into the source of the data for each.  The results are below, with 22 (71%) of the maps using government data as their source.
Of those made with government data, 12 maps were made with Open Data, meaning it was published by the government as raw data, easily accessible and free to download and use.  That leaves 8 maps using government data that was not open data, either locked in PDFs, behind unofficial APIs, or accessible only via FOIL request.
9 of the maps used data that was either proprietary, user-collected and curated, or otherwise non-government data.  1 map (NYC Subway in the style of Super Mario World) was not data-driven (this is open to debate, comment away).
These numbers are a compelling case for Open Data… 71% of what Gothamist considers to be the best interactive maps of 2013 would not have been possible without access to government data.  These are prime examples of the amazing transformation of data as a raw material into useful and value-added finished products.
Many of these are created directly from NYC's most popular open data set, 311 reports from 2010 to present.  This dataset is updated daily, and includes over 6 million rows indicating the pulse of many city issues, from rats and graffiti, to noise and trash complaints.  Restaurant inspections data shows up as well.  Just imagine what these mappers could do with the NYPD's crime and crash data if it was freely available too.
Below is a table linking to each of the maps, with annotated sources.   Green = Open Government Data, Orange = Freely Available but not quite Open Government Data, Red = Hard to obtain Government Data
Gothamist's Top NYC Interactive Maps of 2013